$MART DECISIONS IN COLLEGE PLANNING
Houston Caribbean Professional Association in partnership with the HCC-NW International Student Association host POWERED TO SUCCEED SERIES
Join us for the first session in our three-part empowerment series, as we provide actionable solutions to real-life financial issues impacting our Houston community. Come engage with the experts as they share audience-tailored financial best practices for success.
In Session One: "$MART DECISIONS IN COLLEGE PLANNING", our specialists will share financial and academic planning advice and how to succeed in these areas with college-track and college-bound students, college-enrollees, and their families.
By the session's end, expectations are that:
1. Young adults and their families will be knowledgeable of all higher-education options and will think critically about making decisions that best align with their career interests and financial capacity.
2. Young adults and their families will be informed about debt accrual risks (credit card and student loans) and the benefits of saving early while minimizing debt accumulation. "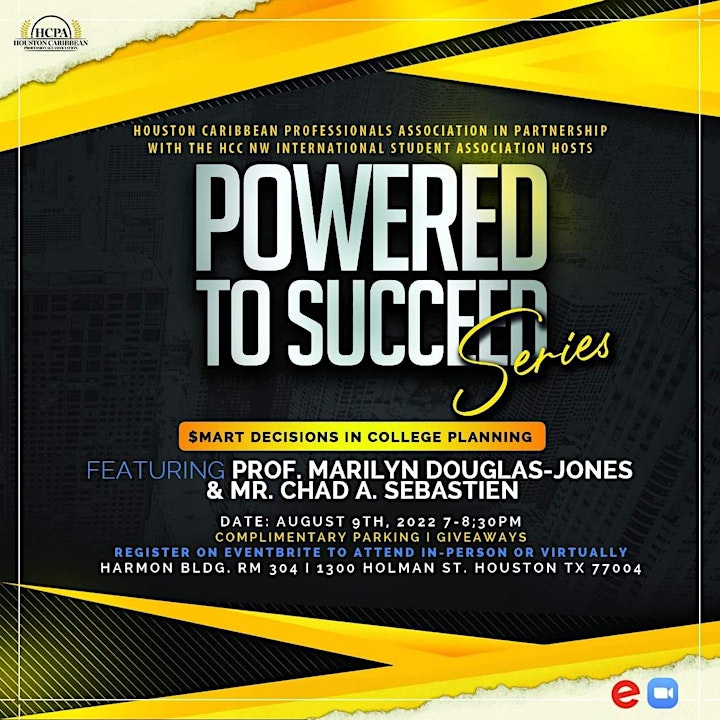 Featuring: Prof. Marilyn Douglas-Jones and Mr. Chad A. Sebastien
Complimentary parking
GiveawaysHarmon Bldg. Rm 304