Dallas Food Tasting Event
Sample Foods from different Foods from all over the world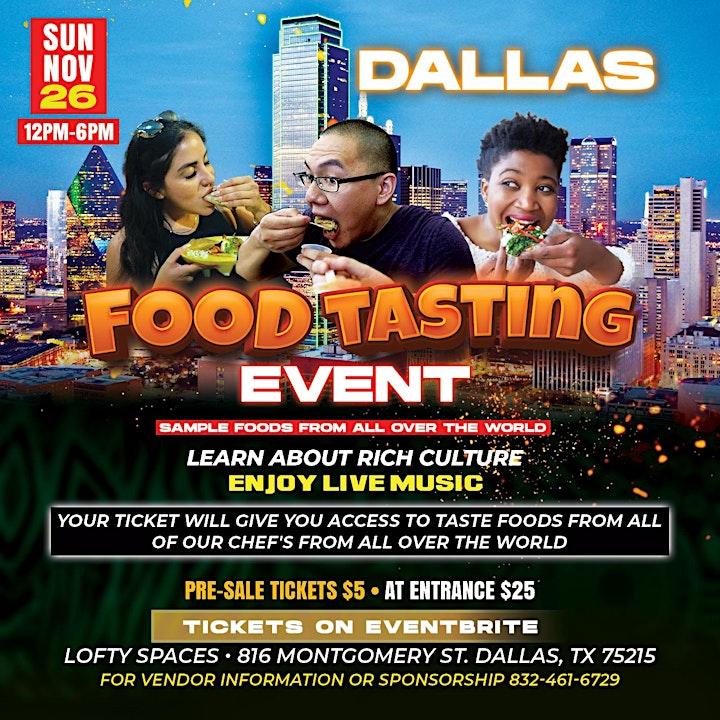 The Dallas Food Tasting will be a mix of foods from Africa, South American, Island, Soulfood, Cajun, and Southern Cuisine. Your ticket will give you access to sample from each food, dessert, & drink vendors. There will be several other small business vendors including clothing, Accessories, jewelry, bath & body, men's wear, health, and so much more.
OUTSIDE FOOD/DRINKS ARE not permitted
What is the cost for ENTRY?
Entry is $5 with a Presale TICKET, But will cost $25 at gate entrance without a ticket
What is the address of the event?
Lofty Spaces 816 Montgomery st Dallas Tx. Inside Main Building
Where can I contact the organizer?
If you have any questions, contact 832-461-6729
Can I bring my pet?
No, This event is mostly insde the building so we will not have the capacity for pets.
Do I have to bring my printed ticket to the event?
You have the Choice of bringing a Printed Ticket, or bring a scannable ticket from your phone and have it ready at the Entry Line.
Will There be vegan food vendors?
Definitely, We have 2 vegan food chefs signed up already.
What is the refund policy?
Tickets are non-refundable.
Whats The Best Time to Arrive?
Doors Open at 12pm-3pm. Definitely arrive early for less traffic and shorter lines food
What to Expect
There is free parking but using a ride share is an option
Your ticket will include Free Samples, But there is an option to purchase Full SIdes or Full plates if you choose.